Description
Train the Trainer
Whether you are preparing to be a professional trainer, or you are someone who does a bit of training as a part of their job, you'll want to be prepared for the training that you do. They will begin the process of becoming trainers themselves, and understand that training is a process where skills, knowledge, and attitudes are applied.
Understanding Training and Facilitation
Depending on the need of your participants, you may be called upon to provide training, or facilitate a discussion of ideas. This module will help to determine which approach you need in a particular situation.
What is Training?
Your role as the trainer is to encourage behavioral change in the participants. Training is not an event where we attend a workshop one day and expect the desired behavior to take place the next day. Training is a process. It begins before participants sign up for a class and continues until the new knowledge, skills, and attitudes are applied regularly.
Training includes: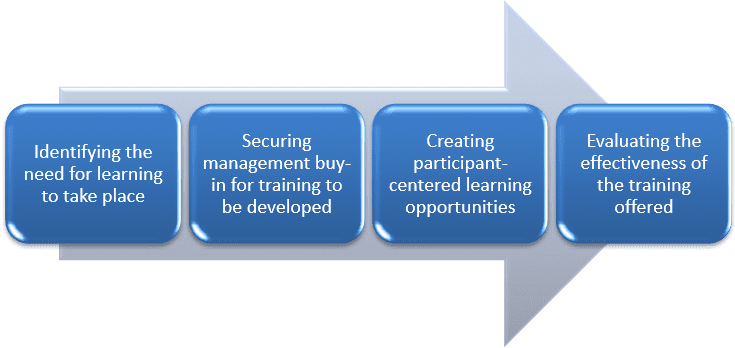 The purpose of training is to deliver results. We make training available when we want to improve performance in some way, because we believe that it will help to move our organization from where we are right now, to where we want to be.
The Train-The-Trainer course will give all types of trainer's tools to help them create and deliver engaging, compelling workshops that will encourage trainees to come back for more. Skills such as facilitating, needs analyses, understanding participant's needs, and managing tough topics will give your trainees what they need to become a trainer themselves.
Course Objectives:
Define training, facilitating, and presenting
Understand how to identify participants' training needs
Create a lesson plan that incorporates the range of learning preferences
Create an active, engaging learning environment
Develop visual aids and supporting materials
Manage difficult participants and tough topics