Executive and Personal Assistants
Executive and personal assistants have always played an important role in business. Their roles and responsibilities have evolved, but assistants are still vital to the profitability of any organization. Training to become an effective assistant will make you a valued employee who assists management on the road to success.
Being an Executive or Personal Assistant is a unique position that requires a variety of skills. Whether you are updating schedules, making travel arrangements, minute taking, or creating important documents all must be done with a high degree of confidentiality. Confidentiality is one of the most important characteristics of every assistant.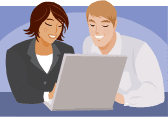 Working with Your Manager
All assistants work to make life easier for their employers. This requires assistants to be adaptable. While you should never work in an unsafe environment, it is imperative that you adapt your communication and work style to the style, needs, and responsibilities of your boss. This will help ensure that you have a productive and amiable work relationship.
Adapting to Their Style
You do not always get to choose your manager. While there is every possibility that you will find your manager's style amiable, you must prepare yourself for a manager who presents more of a challenge. You will have to work with people you find difficult. However, you may be able to turn a negative into a positive if you take the time to understand your manager. This understanding will allow you to adjust your responses appropriately.
Our Executive and Personal Assistants course will show your what it takes to be a successful assistant. You will learn what it takes to effectively manage a schedule, organize a meeting, and even how to be a successful gatekeeper. Being an Executive or Personal Assistant takes a special skill set and this course will provide you with the necessary tools.
Course Objectives:
Adapt to the needs and styles of management
Communicate through written, verbal, and nonverbal methods
Improve time management skills
Manage meetings effectively
Act as a gatekeeper
Use the tools of the trade effectively